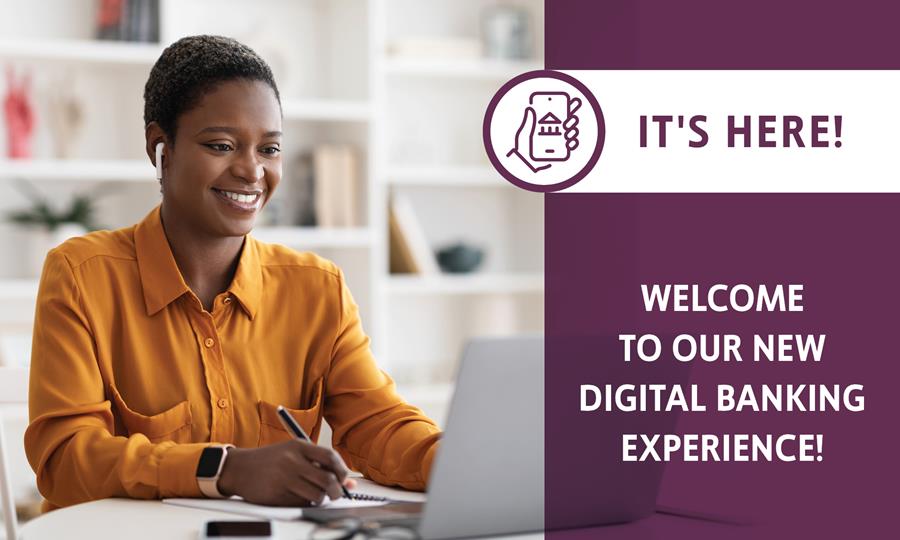 AllCom Credit Union has launched our new Digital Banking Platform, replacing our prior Online Banking and Mobile Banking systems. Our new Digital Banking Platform provides enhanced functionality and an optimized experience for both mobile app and online users. Among the new features, you will find improvements to our e-alert options, more convenient eStatement availability, easier ways to manage your account, as well as new security features.

After the upgrade on September 26, it will be necessary for you to re-enroll. You can enroll either from our website www.allcomcu.org or by downloading the new Mobile Banking app. Note: The current mobile banking app will not function after the upgrade on September 26.
Important to Note
You will have to do the following beginning 9/26:
Enroll in our new digital banking
Set up alerts
Re-connect to Quicken
The following will happen automatically:
All Bill Pay payees and recurring payments will carryover.
Recurring transfers and payments will carry over
Credit Cards – My AllCom VISA system will now be integrated with digital banking so you will have one seamless user experience. You will now find this information within Online/Mobile Banking under Accounts > Cards > Credit Card Controls. You will have to connect the first time by entering basic demographic information and accept the terms and conditions. Then moving forward you will automatically connect by clicking on the Credit Card Controls menu.
Additional Feature Tutorials
Account Display Options
You can now view and access all joint accounts, in addition to your primary accounts. You can reorder or hide any accounts you'd prefer not to see.
Manage Account Groupings
Members can organize their accounts into custom groups to easily stay organized.
Manage Alerts (SMS Set-Up)
Low balance? Large deposit? Log in from an unrecognized device? Set up account alerts via email, text messaging or push notification.
Biometrics (Mobile app)
Log in to the mobile app using Face ID.
Visa Credit Card Access
Visa Credit Card account holders can now access their credit card information by directly logging in to online and mobile banking.
---
Exciting New Features!
You will no longer need to enroll in online banking first. You will have the same experience in both mobile and online banking.
My AllCom VISA system will be integrated with digital banking so you will have one seamless user experience.
You will be able to transfer funds to AllCom members instantly and make loan payments from other Financial Institutions
Note: Access to Quicken and other account aggregators, such as Mint, is now available. To complete the setup, please deactivate and re-add your accounts.
---
Click the links below to access each email communication:
Notification 1 (August 15, 2023)
Notification 2 (August 22, 2023)
Notification 3 (September 5, 2023)
Notification 4 (September 12, 2023)
Notification 5 (September 22, 2023)
Notification 6 (September 25, 2023)