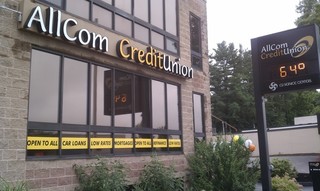 A Brief History Of AllCom Credit Union
AllCom Credit Union is a full-service, not-for-profit, community-chartered financial services organization.  Founded in 1922, we celebrated 100 years in business in 2022.
AllCom was originally chartered to provide financial services exclusively to employees of the Telephone Company.  We now offer our competitive array of savings and loan products to everyone who lives, works or goes to school in Worcester County and 22 other communities in Middlesex County.
To better reflect our growing and diverse membership, the Board of Directors formally changed our name in 2000 to AllCom Credit Union, replacing our original name, Central Massachusetts Telephone Workers' Credit Union.
In December 2001, AllCom Credit Union completed a merger with the former Commonwealth Gas Employees' Credit Union and enthusiastically welcomed NStar employees and their families as members of AllCom Credit Union.
In July 2006, AllCom Credit Union broadened its membership eligibility rules to include individuals who live, work or attend school in Worcester County and 22 communities in Middlesex County. Review a complete description of AllCom's membership eligibility.
In 2013, AllCom Credit Union was thrilled to welcome members of the Worcester Postal Credit Union and their families, further expanding the AllCom member base.
The Board of Directors and Staff of AllCom Credit Union continue to build on this successful history and commitment to service.