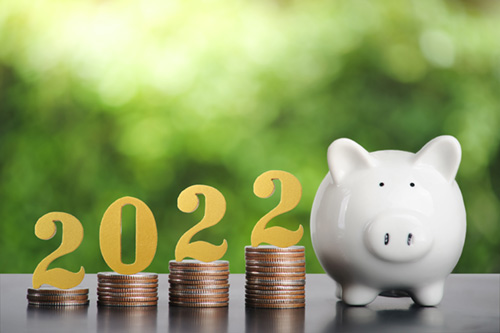 If you're someone who likes to make resolutions on New Year's Day, you know how hard it is to stick to them. Here are a few resolutions that can help increase your financial fitness and hopefully inspire you to stay committed to them in the new year.
Resolution 1: Create a budget 
Saving and investing during your working years, if you are consistent, should lead to a rising net worth over time, enabling you to achieve many of life's most important goals. Creating your own budget can help you build your road map and stay on track. At a minimum, be sure to have a high-level budget with three things: how much you're taking in after taxes, how much you're spending and how much you're saving.
Resolution 2: Manage your debt
Debt, depending on how you use it, isn't always good or bad—it's simply a tool. For most people, some level of debt is a practical necessity, especially to purchase an expensive long-term asset to pay back over time, such as a home or car. Problems may arise when debt becomes more of a burden than a tool.
Resolution 3: Prepare for the unexpected
Risk is a part of life, particularly in finances. Your financial life can be affected by all sorts of surprises: an illness, job loss, disability, death, natural disasters or lawsuits. If you don't have enough assets to protect against major risks, make a resolution to get your insurance needs covered. Insurance helps protect against unforeseen events that don't happen often, but are expensive to manage yourself when they do.
Resolution 4: Protect your estate
An estate plan may seem like something only for the wealthy. But there are simple steps everyone should take. Without proper beneficiary designations, a will and other basic steps, the fate of your assets or minor children may be decided by attorneys and tax agencies. Taxes and attorneys' fees can quickly diminish these assets and delay their distribution when those who are entitled to them need them most.