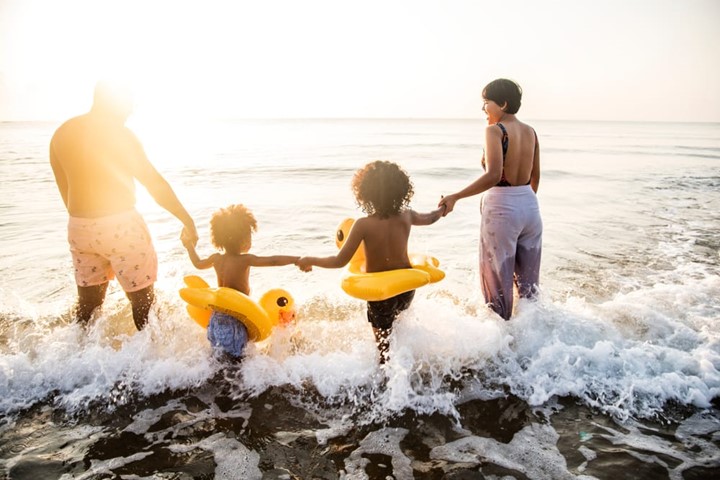 If you travel with children, you may have found cheap family vacations more difficult to arrange in recent years. The price hikes for trips during school breaks are well documented but there's also the steady upward trajectory of the costs of food, accommodation and entry fees to attractions. These quickly add up when you are travelling as a family.
Thankfully there are ways to make your hard-earned cash go further while you explore the world together. Here are some tips for planning a family vacation on a budget.
1. Timing is everything
Last-minute deals don't typically exist during school holidays. If your kids are in school use the school calendar to book months or even years ahead, when prices are still relatively low due to the lack of demand. If your kids aren't in school yet or you homeschool, make the most of travelling outside the peak periods, when costs are low and crowds fewer.
2. Use your parenting networks
Baby social media groups likely kept you sane through the newborn phase. Quiz fellow parents about trips they've taken, how much they cost and what they would do differently to save money next time. There are also plenty of forums and family travel bloggers ready and willing to give you their budget tips on destinations they have visited.
3. Take your family off the beaten track
The higher the demand, the higher the price. One solution? Get off the beaten track. Avoid tourist hotspots and choose instead for somewhere less trendy or famous; think rural Lazio over Tuscany, Adelaide over Sydney and Maine over California. With a bit of research, you'll find fun things to do with the kids and enjoy the luxury of a place that isn't overcrowded.
4. Turn the journey into an adventure
Save money on a night's accommodation and create memories you will all treasure by travelling to your destination (or between two points on your itinerary) in a different way. Taking an overnight train or ferry is a huge event for kids and a story they will retell again and again when back home. Alternatively, a family road trip using your own vehicle avoids the high cost of air fares and rental cars.
5. Embrace the great outdoors
Kids tend to love spending time in the fresh air, which is great news for money conscious parents. Plan day trips that involve nature walks rather than expensive attractions, find a local playground so your little ones can meet other children. You can even take a picnic to avoid restaurant prices.
6. Stick to the essentials
Anyone trying to save money knows it's those little extras that really add up and the same applies when you are travelling with kids. Take refillable water bottles, buy ice creams by the pack in a local supermarket and read up on the sites you are visiting before you go to avoid paying extra for audio guides, activity packs or special exhibitions. Having an 'eyes only' policy for gift shops can also help keep extra spending at bay.
7. Change your family's travel habits
Instead of trying to get away every time the kids have a break from school, consider going less frequently but for longer, thereby consolidating costs of getting away in the first place. If you're able to work remotely, you could travel for months, rather than weeks. Alternatively, consider a 'staycation'. Switching off and pretending you are on holiday while exploring your local area can be a fun family challenge.
No matter which vacation options you choose, AllCom Credit Union can help. For a limited time, apply for a Special Vacation Loan of up to $5,000 with rates as low as 6.00% APR* for 12 months. Click here to learn more.
*Annual Percentage Rate. Best rate available based on creditworthiness. Payroll Deduction or Automation Payment required. 12 month maximum term. Effective 6/15/2021-8/31/2021. Loan based on a payment of $86.08 per month per $1,000 borrowed for 12 months. Other rates and terms available. Not valid on existing AllCom loans. Rates and term subject to change without notice. Please contact a Loan Officer at 888-754-9980 for additional details.