For AllCom Credit Union, "banking made better" has been about the people. Our team works diligently to serve our members by making their financial lives the credit union's priority. Over the years we have incorporated various community partnerships into our commitment to serving our members and our community.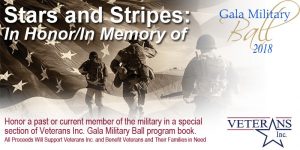 For our team, no partnership has been more important than that with Veterans Inc. This year, we are inviting our members, our AllCom family, to join us in support of this incredible organization.
Over the past 10 years, AllCom has supported Veterans Inc. by collecting gifts for our homeless veterans from our members, our employees and our Board of Directors during the holiday season. During the rest of the year AllCom employees pay to participate in "dress down days" with proceeds going to Veterans Inc.  As the Gala Military Ball (their primary fundraiser) approaches, we hope to increase our support and contributions and are inviting you to join us in this effort.
The "Stars and Stripes: In Honor/In Memory of" is a great way to support the essential work of Veterans Inc., while personally honoring a veteran in your life. A "Stars and Stripes in Honor/Memory" donation of just $150 allows you to recognize and honor veterans who are serving, have served, or who have passed. Your veteran's name and rank (optional) will be listed in the 2018 Gala program book and on the Veterans Inc. website for six months! This is easy and impactful—$150 goes a long way in feeding a homeless veteran. Click here to participate in the "Stars and Stripes: In Honor/In Memory of" donation.
"Stars for Veterans" – From now until the Gala in November we will be selling stars in our branches for $5. Each donation will help Veterans Inc. in their ongoing efforts to support local veterans and their families.
We hope you will consider joining us in our efforts to improve the lives of our veterans.